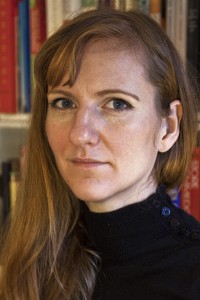 Sofie Kragh-Müller was born in Kalundborg, Denmark in 1974. She has a degree in radio journalism from the Danish School of Media and Journalism.
She has published several short stories, and is the founder of a writers group, "Brevlitt.dk", whose members hand-write new Danish literature and send it out by mail directly to the readers.
Her first novel "The Prophets Daughter" was published at Tiderne Skifter in 2013. It has been accompanied by music by Tao Højgaard (jazz/ambient) and performed as a literature concert in the Copenhagen Cathedral, Church of Our Lady in september 2014.
Listen to the live-concert: 
Lydklip: Adobe Flash Player (version 9 eller højere) kræves for at afspille dette lydklip. Hent den seneste version her. Du skal også have JavaScript aktiveret i din browser.
 In 2016 Sofie published her second Novel "How to get away" at Jensen&Dalgaard.
She has received a number of scholarships from the Danish Arts Foundation (Statens kunstfond) and others.
Contact:
info@sofiekmuller.dk