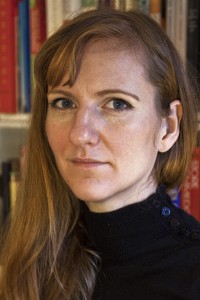 Sofie Kragh-Müller was born in Kalundborg, Denmark in 1974. She has a degree in radio journalism from the Danish School of Media and Journalism.
Her first novel "The Prophets Daughter" was published at Tiderne Skifter in 2013. It has been accompanied by music by Tao Højgaard (jazz/ambient) and performed as a literature concert in the Copenhagen Cathedral, Church of Our Lady in september 2014.
In 2016 Sofie published her second Novel "How to get away" at Jensen&Dalgaard.

She is also a part of LUCY BLOOM,  a new experimental collaboration between musicians from the Danish scene and writer and poet Sofie Kragh-Müller.
The band combines raw avantgard-pop with texts that relate to relations and hierarchies in a wide sense:
Aminal // human
Nature // culture
Madness // normality
Woman // man
Krop // tanke.
Evolution // Regression.
Their lineup is:
Saxild: bass guitar
Rønn: vocals and keyboard
Tolbøll: Samples and triggers
Mathiesen: Drums and percussion
Müller: All texts
She has received a number of scholarships from the Danish Arts Foundation (Statens Kunstfond) and others.
Contact:
info@sofiekmuller.dk